Out For A Walk With Spike pt4
I May Be Dirt, But You're The One Who Likes To Roll In It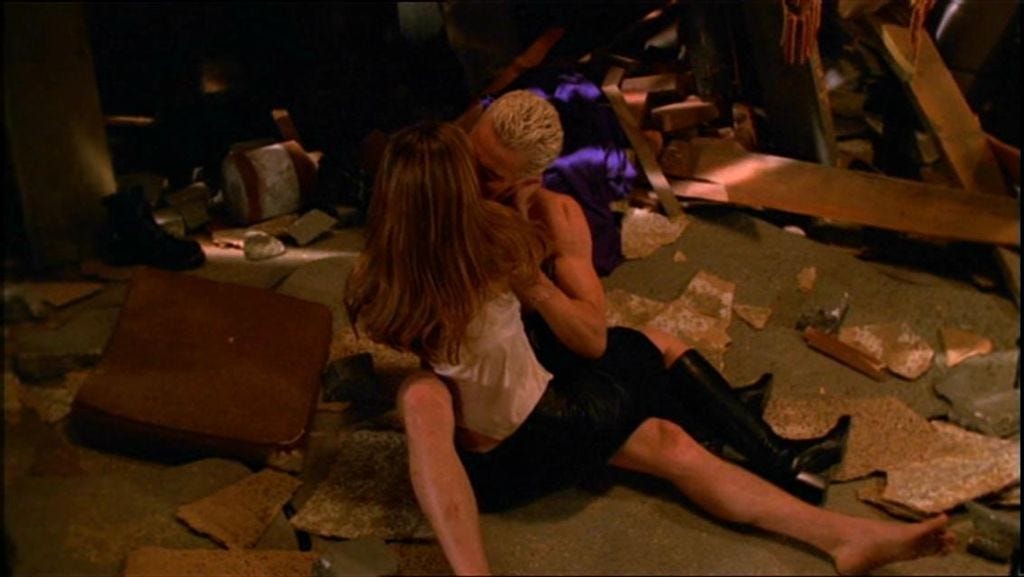 A fantasy is at its heart a survivalist lie. — Jamie Hood, Fucking Like a Housewife
continued from pt 3
Spike and Buffy finally have sex when he realized that she came back from the dead (for the second time) (long story) "wrong." They fuck when she realizes he can hurt her. The vampire slayer does not have enough human in her anymore to protect her from the human technology in the vampire's head. When she realizes this, she finally allows herself to be possessed by this unrepentant killer. 
They're beating each other up. A typical night. Shockingly, she kisses him. He is in awe, but he doesn't hesitate or think too much. A monster knows how to enjoy what he's got when he's getting it. He's still standing when she wraps her legs around him . To pull this off, they must have been so hard and wet already from battle, which reminds you that they were always hard and wet when they were battling. They fuck so good and so hard that they destroy the warehouse they're in.
Reader, I cannot stress this enough. Buffy and Spike fuck a building down. 
In that moment, on network television, at the end of the millennium, I saw the thing I wanted from sex. I didn't exactly seek out petite blondes or swaggering bad boy clones for my role plays. If anything, I kept my eye out for people in leather jackets. I figured that for the best way to find someone with which to fuck down a building.
In my early 30s, after many years of being a successful dominatrix, I decided I wanted a more revolving door, hit it and quit it, wham bam thank you ma'am kind of sex work. I got hooked up with some shifts at two different midtown Manhattan massage parlors. These were apartments: clients dialed the number they found in an ad, got connected to a dispatcher, showed up stressed, left relaxed, and were encouraged to write message board reviews.
After only a few weeks, I was let go from both of these places. The managers, women who took the calls and monitored reviews, tried to be kind: I wasn't the right look, I had too many tattoos. But I know you can be "alt" if you're really good at appearing, smelling, and acting glam. I know you could be androgynous if you are very slender. When I'd been a pro-domme, men cowered before me, reverently told me I looked like Maggie Gyllenhaal, obsessively brought me money in exchange for more time in my presence. When I was there to give refreshing scrub downs and oily hand jobs, there was something not quite right about me in the esteem of enough men that I was deemed an unacceptable hostess for a happy ending. 
Transactional intimacy had never been demoralizing for me. I've had asshole submissive clients and really unfair days on porn sets: this handjob parlor rejection was the only time I'd ever felt intractably object-ified and consume-d at a sex industry job, where I was treated like a product you could review, not a person providing a service trade. I never really returned to full time sex work after that, even when things were really lean. 
In my lowest moods, this is another humiliation that burbles to the surface: you were willing to jerk strangers off for cash, and they rejected you from the opportunity to degrade yourself. You were considered not even pretty enough to be a whore. You came back wrong.
In my fantasies, monsters don't get off on reminding me they're holding out for something a little bit more to their liking.
They get off on stalking me, toying with me, preying on me, and fucking eating me. 
They sink into my flesh, they want to obliterate the thing that makes me me. 
They don't care if I like it but I do.
In my fantasies I'm like Buffy with Spike: I can fight back against his desire with all my strength, and he keeps attacking, and that is sex. I don't have to hold back. The relentless thing really wants me. I'm pinned down in the place where annihilation flows into consummation, the confluence of love and fear. How bad could mortal danger be, how much worse than the shame of not being good enough to want?
continued in pt 5