Out For A Walk With Spike pt1
Five Words: Out. For. A. Walk... Bitch!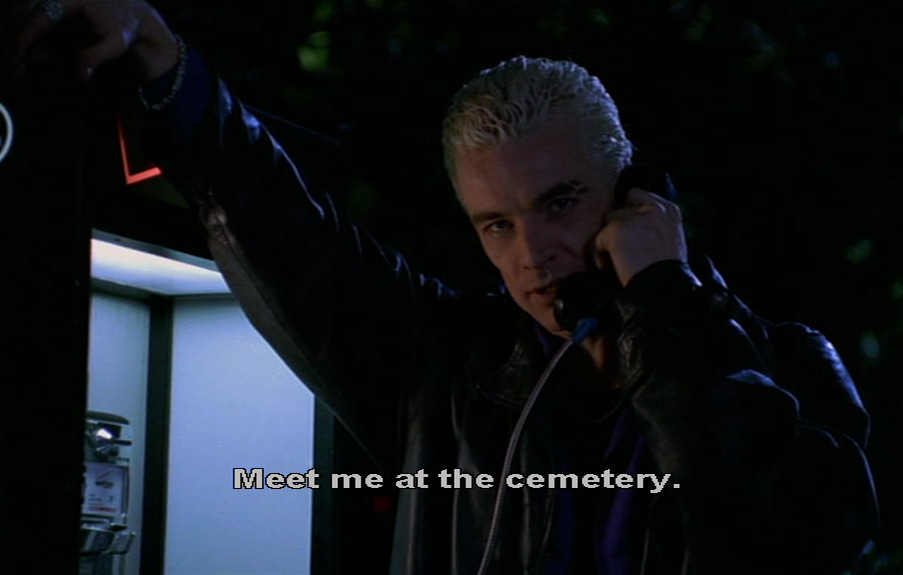 Did men (those who knew them as well as strangers sitting in motor cars) call them out of their names every single day of their lives? Uh huh. Every hateful word and gesture was the Beast's desire for its own filth. The Beast did not do what was done to it, but what it wished done to itself: raped because it wanted to be raped itself. Slaughtered children because it yearned to be slaughtered children. Built jails to dwell on and hold on to its own private decay. Their enemies got what they wanted, became what they visited on others. — Toni Morrison, Jazz
Buffy and Spike are out for a walk.
They do this a lot. Always at night, because Spike has to. Spike is a vampire. Buffy also has to, because she's a vampire slayer, so nighttime is when she really comes alive. (One difference between watching Buffy the Vampire Slayer weekly on the WB when I was a teenager and watching it on Hulu in the 21st century is that now I'm always worried Buffy isn't getting enough sleep.)
Buffy and Spike have been through a lot (of plot machinations): mortal foes for a few seasons, and then, when the military implanted a chip in Spike's head so he couldn't hurt humans without experiencing debilitating neurological pain (long story), frenemies. Their relationship unfolds at the pace of a 22-episode-a-season 90's TV horror dramedy, so, basically in real time.
Over the years that Buffy and Spike's sexual tension was intensifying, so was my desire to have sex with men. I also wanted women, and what confused me at first was that my evident queerness was not at the exclusion of men. It certainly encompassed genders that were trans and nonbinary. I wanted everyone. Like Little Richard, I was omnisexual: I wanted it all.
And what I had already learned, from everywhere and everything, was that all boys wanted sex. All that boys wanted was sex. Insufferably clever, I really thought I'd already figured out how to get everything I wanted from sex (I was also certain I had invented masturbation). I would just show up to the lairs of men, armed with the strength of my own lust, and allow myself to be wanted.
I threw my hands into the air when I danced to show off my body and frame my facial expressions. I ran at breakneck speed through the dead of night, I leaped over trash cans, I quipped a mile a minute. I wore leather jackets made for women and leather jackets made for men. I sat with my legs spread and my mouth open for business. I didn't do this to impress boys; I did it because that's who I was.
And this did not get me what I wanted. Many boys, I learned, do not respond to strength, directness, assertiveness, cleverness. They do not respond to someone else's desire for what they could offer. They do not respond to a woman's capacity to (I'm sorry, but) slay.
Cont'd in Pt2