Out For A Walk With Spike pt 7
No You Don't. But Thanks for Saying It.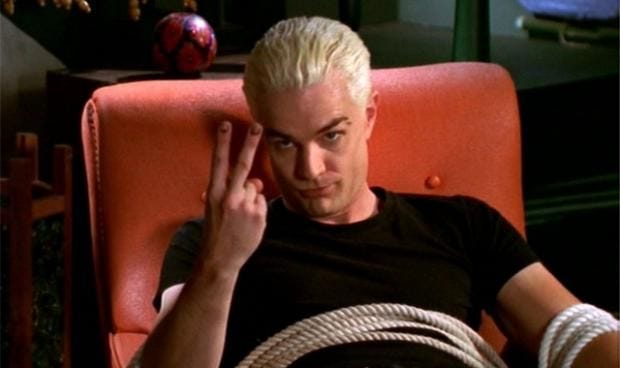 continued from part 6
Neither Spike's redemption nor charm makes him my avatar of desire. When I look at all the things wrong with him, all his behavior outside of the horror allegory, the monstrosity that isn't neck chomping or torture or robot sex but the impotent flailing of an insecure former man, I see the behavior I've learned to spot coming, to sidestep, to refuse. I see the red flags. And I don't see them as romantic. I see them as pathetic. A sign of how much growing he has to do.
If the undead can grow, there's hope for us all.
The good news is that I've learned to recognize the male banality that's a sad excuse for evil. I've learned to say no to it, say Ew! to it, hold fast to my boundaries. The frustrating part is: I still want it to want me. Fantastical. Unbelievable. 
Is it possible for a man to love a woman who can take him?
Or does it take a monster to do that?