Out For A Walk With Spike pt5
Love Isn't Brains, It's Blood. Blood Screaming Inside You To Work Its Will.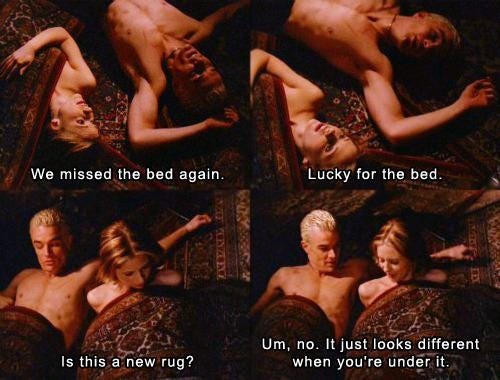 Paul was naturally curious about girls; he didn't know how to find a boyfriend; and sex was sex, he thought. Later, other gay men would find this remarkable; they would make their endless fish jokes, or confess proudly their inability to get hard with some cheerleader. Paul didn't understand that. What was sex but newness? And sensation and conquest and intrigue and desire and romance and fantasy, and specific people sometimes, sure, but not always. Fucking Heather Federson had been scary and dangerous and even humiliating, and he'd felt brave to do it, and protective of her and scared of her and all of that was fun, right? And it was fun to put his dick inside her, a different kind of masturbation. — Andrea Lawlor, Paul Takes The Form of a Mortal Girl
continued from part 4
A category: cis men who are attracted to women. Another category: everybody else. Of all the kinds of people I'm into, that I fantasize about, that I've fucked and loved and beaten and kissed; why is the former category the only gender that I have this Spike complex about?
Spike is aggressively hetero. While he is given to some dandy mommy's boy poet foppishness and a flamboyant leather duster (originally a woman's, we learn), his origin story reveals his masculinity as a put-on. First he gets the power, then he gets the style, then he gets the women. He's a maximalist fighter, brutal and imprecise. He pretends not to care, but he really, really does.
After he wakes with a gasp, realizing he's in love with Buffy (vampires do dream), Spike's romantic approach is unmistakably homosocial. He calls her Summers. He lets her kick his ass. He offers her a flask of bourbon during a stake-out (vampires do get drunk). Like me, he craves a bromance.
Buffy keeps saying No. In fact, Buffy keep saying Ew! Her first boyfriend was a repentant monster (Angel got a spin-off, which is more than I can say for my first boyfriend, ey-oh!). The second boyfriend, her first human, couldn't take her. She was much, much stronger than him, which bothered him, for many tedious episodes (god, I hated Riley). He eventually sought out the darkness he knew was in her (a prelude to her succumbing to Spike) visiting a sorta vampire brothel / junkie den (not TV's best supernatural sex work representation, but I digress). "They (the vampire whores) needed me," he tells Buffy. Riley is a good man, and pathetic. Spike is a murderer, but he's no hypocrite.  
Why do I think of a man loving a woman's strength as homoerotic? I used to feel sorta guilty that I was so sexually obsessed with a male character on my favorite show, rather than, say, the peasant-skirt-femme-for-soft-sweater-femme witch nerds Willow and Tara. My friend Laura Westerngard, author of Gothic Queer Culture, assures me that all monstrous desire is queer desire. Queer-baiting and murder are intertwined. This doesn't mean I was actually only ever a dyke. This means that I, like Spike (and Hannibal, and Villanelle), have an insatiable appetite, a broad palette, and taste. 
I think you have to have an atheist's imagination to be kinky, which is why so many people who know there is no god love stories of monsters and mutable bodies and superpowers and outer space and other worlds, why we have such perverted fantasies. 
When I was 25, I had a lover who was 50. A neat and tidy double my age. He wasn't Spike made flesh, exactly, but he was English, tall and lean, and he loved to hurt women. I say that for dramatic effect, because he didn't rip anyone's throat out or anything. He had loved spanking since he was young. He was a fetishist: the pain was all about the ass, the domination was all about having his object of desire in place to do with what he wanted. And there was no doubt my ass was an ass to be had. His obsession was controlled, focused. He was the kind of monster a man should be. And when he hurt my flesh, something inside me was healed. The pain was something I could use, and I did. Across his lap, I could practice mind over matter: it hurts and you're safe. That relationship was also neat and tidy: it ended when we were both ready to move on to fuller loves. 
Buffy and Spike fuck everywhere. Against a tree. They mostly fuck in his lair, a crypt. In one scene, we hear the sounds of moaning, and crashing. Then we see them, chests heaving, under a… rug? It's so absurd, so the opposite of anything symbolic or what you'd expect, like Clark making love to Lois while levitating. It makes it really dirty, both more and less real.
continued in part 6