Out For A Walk With Spike p2
I Will Make Your Neck My Chalice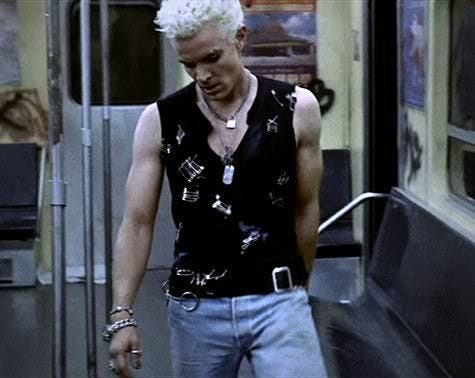 Cruel optimism is not a delusion. It is a calculation (conscious or not) that decides that proximity to whatever it is you want is worth more to you than the ongoing pain of never actually getting that thing. — Yuhe Faye Wang, Heterosexuality and its discontents
Cont'd from Pt1
Spike does. Respond to someone else's strong desire for what he can offer. But Spike is not a boy. He's also not a man. Spike is a monster. He is also — and this is crucial — not real.
What is vampire lust if not a Daddy fetish? (Spike is, after all, over a hundred years older than Buffy).
With his desire, Spike tells Buffy: you've killed so much that you wanna know how it feels to be murdered. I can give you that. With sex. You'll live through it, but you'll be so relieved to think you're dying. His theory: every slayer has a Death Wish. He wants to Death Top her (see also: Hannibal/Will, Villanelle/Eve).
The horniness of immortality. The thrill that someone has seen a thing or two and they like you. Endurance. Stamina. Perspective. A being representing an ancient power, an invulnerable disease like the patriarchy.
I wanted that.
But in 2020, I'm trying to convince myself that I never really wanted men in the first place. Which is why men have never really satisfied me. What I want is bloodsuckers, killers, amoral predators, selfish subhumans who follow their instincts and don't think too much.
I want to be wanted by monsters. Fantastic creatures capable of the most horrific acts imaginable, like mind control, like being torn to shreds, like losing autonomy. Psychic mutilation. Emotional obliteration. Erotic oblivion. Tension that throws up blinders against less immediate pain. The void.
But I also want to live! I don't think I have a death wish so much as I was born to explore every territory of fear and release. Maybe Buffy and I have that in common.
In my fantasies, it's my sex that tops the unleashed male libido from the bottom, brainwashing him to give me what I want. This is not the way things are in real life. It's not the way it would be if I was raped, by a partner, by a friend, by a date, by a stranger, by a family member, by a supernatural creature. Thank goodness for the shape-shifting of BDSM.
Men don't scare me, although maybe they should. Maybe they would like me more if I was scared of them. The only thing that really scares me is being rejected by them, and I still don't know what it will take for me to conquer that fear. To not care.
Continued in Pt2